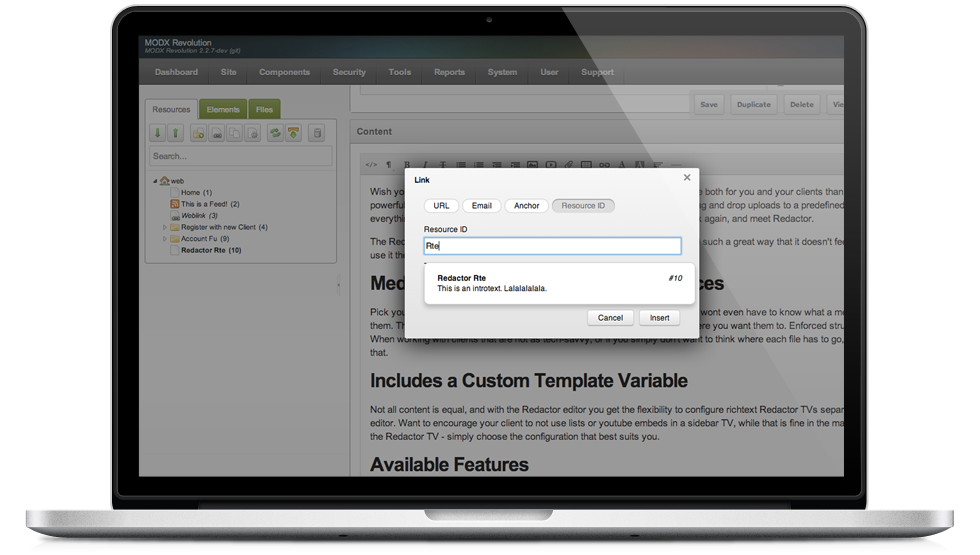 Redactor (v1)
Looking for a better editor? Meet Redactor. This commercial WYSIWYG editor brings you a lightweight & user friendly editing experience.
Developed by: modmore
Current Version: 3.1.5-pl
Downloads: 16609
Price: € 19* per install (view all pricing)
Redactor (v1)
The page you're currently looking at contains information related to Redactor 1.x. Please visit Redactor for the relevant information for Redactor 2.x.
Wish you had an editor that has a cleaner interface and a better user experience both for you and your clients than TinyMCE? One that is powerful, but not complex? Full of powerful features, yet fully customizable? Drag and drop uploads to a predefined location, but still full access to everything already uploaded to your media sources? Too good to be true? Think again, and meet Redactor.
The Redactor WYSIWYG editor has all the features you need, and then some, but does it in such a great way that it doesn't feel complicated or bloated. And with the various settings, you can use it the way you want to.
Media fully integrated with Media Sources
Pick your preferred media source, optionally set an upload path, and your client wont even have to know what a media source is in order to use them. They just drag and drop their files and images, and they are uploaded where you want them to. Enforced structure with minimum effort. When working with clients that are not as tech-savvy, or if you simply don't want to think where each file has to go, it doesn't get much better than that.
Includes a Custom Template Variable
Not all content is equal, and with the Redactor editor you get the flexibility to configure richtext Redactor TVs separately from the main content editor. Want to encourage your client to not use lists or youtube embeds in a sidebar TV, while that is fine in the main content? No problem with the Redactor TV - simply choose the configuration that best suits you.
If you don't want all this configuration goodness - no worries. Redactor will also enhance regular richtext-type Template Variables.
Note: to use MIGX with Redactor richtext fields, you will need MIGX 2.5.6+ and Redactor 1.2.0+.
Available Features
The modmore Redactor package comes with all the features that the official version ships with, tuned and customized for usage within MODX where it makes sense. This gives you a lot of flexibility and power, in an affordable, simple to install package.
On top of the core Redactor RTE, our package provides you with the following features.
Manage most Redactor configuration options via System Settings.
Create seperate Redactor instances using TVs. These can inherit their configuration from system settings, or override any of the options to provide a tuned experience.
Simple drag and drop upload (or plain old file chooser if you want) into a predefined Media Source and optional upload path.
Ability to browse existing uploads.
Smooth injection of links to other Resources, no need to explain your clients what a [[~5]] does anymore.
Stunning interface.
What people say about Redactor
I'm using Redactor on 3 sites already. It's not only a great RTE but the integration into MODX too is really slick. Well done. And most importantly I've had really positive feedback from clients too. Sometimes we forget that 90% of their interaction with MODX happens through the text editor. If the text editor rocks (like Redactor) then it creates a much more positive experience for them and less support emails for us. Anyway, congrats on a great product :) Peter Knight, EdenWeb
I'm using Redactor on my personal site since the modmore beta, and I have to say, it's GREAT. So much better than TinyMCE. Super worth the money to have such a fantastic extra. Can't wait to see what you do in the future! Jesse Couch
Adding new articles used to take 20-30 minutes, but now with Redactor's drag-and-drop images it speeds up the process to about 30 seconds. Adam Wintle, Design Everyday
I have to say, I'm already in love with redactor! It fits so nicely to MODx Revo and loads much faster than TinyMCE - I definitely will never use this Tiny thing again! Martin Gartner
Need help?