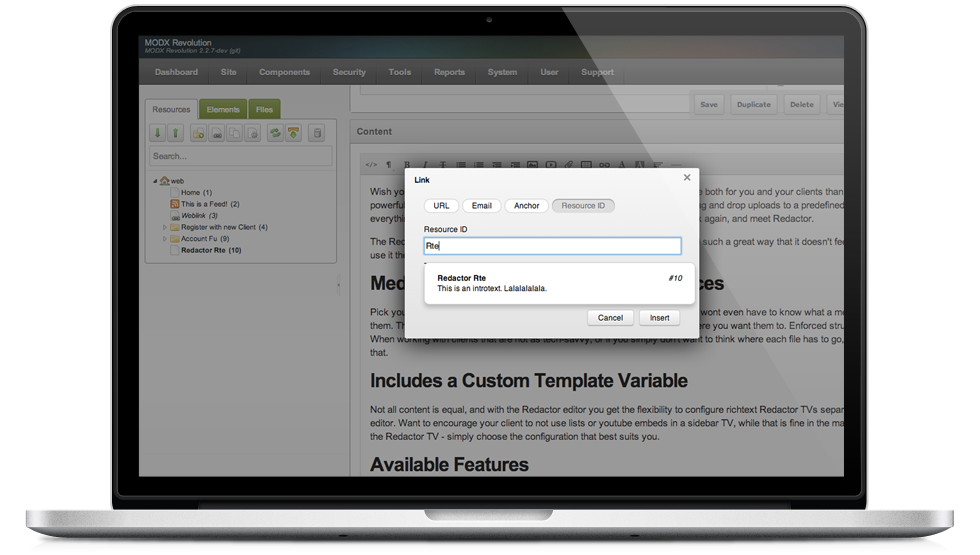 Looking for a better editor? Meet Redactor. This commercial WYSIWYG editor brings you a lightweight & user friendly editing experience.
Redactor (v1) • Bugs & Features
The page you're currently looking at contains information related to Redactor 1.x. Please visit Development for the relevant information for Redactor 2.x.
Below you will find a list of open and closed issues for Redactor. If you encounter any bugs or have some great ideas to make Redactor better, please contact support.
Customize Font Size Options
Created on 2016-09-16 • Last updated on 2016-09-16
"="" added to img tags
Created on 2016-07-14 • Last updated on 2020-01-14
Advanced Attributes not working on Redactor TVs
Created on 2016-05-26 • Last updated on 2017-04-05
Table dropdown shouldn't say "Add Head" when there is already a header
Created on 2015-07-29 • Last updated on 2015-12-06
Front-end support
Created on 2015-03-31 • Last updated on 2017-07-13
Ensure Redactor loads in MIGX DB
Created on 2013-10-04 • Last updated on 2014-07-07
Closed Issues
#453: Edit Image > Alternative Text input searches for resources • Closed on 2017-04-06
#446: Option to use Modx File Browser in Redactor • Closed on 2020-01-07 •

Redactor 3.0 RC1

#443: Redactor.css Setting doesn't work as Context Setting • Closed on 2017-04-05
#440: Option to set initial Eureka media source (per context) • Closed on 2017-03-23
#439: Option to set eureka useLocalStorage to false • Closed on 2017-03-23
#435: Predetermined Options for advanced attribute class/ids • Closed on 2017-04-05
#422: Closing Tags Always on Their Own Line • Closed on 2020-01-07
#418: [Eureka] Setting to disable localStorage • Closed on 2016-04-09
#417: Separate storagePrefix for files/images • Closed on 2016-04-09
#416: Some Buttons not available for TV usage • Closed on 2016-03-24
#412: Upload care Crashes on Super Big Images • Closed on 2017-04-05
#410: [Eureka] styles too loose • Closed on 2016-02-27 •

Redactor 2.1

#409: [Eureka] pull out into separate package • Closed on 2017-03-23 •

Redactor 3.0 Alpha

#407: [Eureka] tree doesn't init to current directory • Closed on 2017-03-23 •

Redactor 2.1

#405: [Eureka] Upload button doesn't work in Firefox • Closed on 2016-02-25
#402: Filter out Workflow/Preview resource copies in dropdown • Closed on 2016-03-15 •

Redactor 2.1

#400: FR: List View in Eureka Media Browser • Closed on 2016-02-26
#398: Fix compatibility with filesluggy • Closed on 2016-03-28 •

Redactor 2.1

#397: Ability to use div in formats menu • Closed on 2016-04-14
#396: Make Eureka Storage Prefix Configurable • Closed on 2016-02-26 •

Redactor 2.1

#392: Advanced Attributes don't persist in modal • Closed on 2015-12-07
#386: Choose File Modal Reads Choose Image when eureka upload is enabled • Closed on 2015-11-04
#374: mutilated links on convertLink • Closed on 2015-10-06
#368: Adding an email link adds mailto: twice • Closed on 2015-10-01
#366: Broken Image Edit Window • Closed on 2015-09-15
#365: Re-Introduce Multi-Drag to Upload Support • Closed on 2020-01-07
#361: Rewrite MIGX integration to work properly without hardcoded version-specific code • Closed on 2015-10-01 •

Redactor 2.1

#356: FR: Load custom properties for a CMP implementation • Closed on 2020-01-07 •

Redactor 3.0 RC1

#332: Consider: Configure Media Sources images vs files • Closed on 2015-07-31
#326: [Media Browser] Root Directories not Expanding when selected • Closed on 2015-07-23