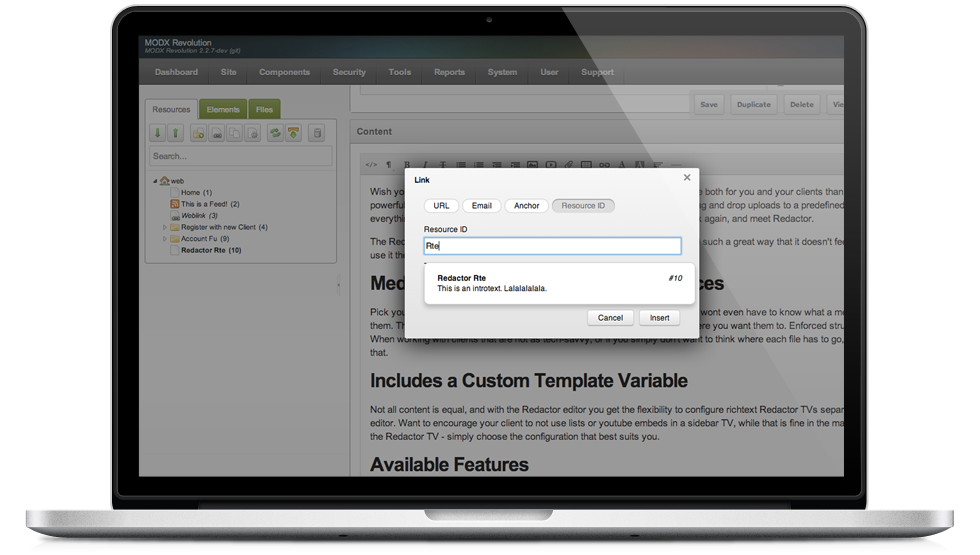 Looking for a better editor? Meet Redactor. This commercial WYSIWYG editor brings you a lightweight & user friendly editing experience.
Redactor (v1) • Configuration
Redactor comes with a whole bunch of configuration options, so you can customize the look of the editor, the available functionality and some nifty tricks that Redactor offers.
These configurations are stored as System Settings, and can be found by visiting System » System Settings and choosing redactor in the namespace dropdown (that's the one that defaults to "core"). It is also possible to create Redactor Template Variables instances, in which case you can override many of the settings for each template variable.
+tv Options marked with a "+" in the overview, or with the blue "+tv" label below, are options that can be configured for individual Redactor template variables.
Editor
The settings in the Editor category allow you to customize functionality related to the editing experience.
Internationalization
Markup
Using the markup settings, you can optimize and tweak the outputted markup from Redactor.
Advanced
Stuff that you probably wont be editing unless you know what you're doing.
Media
Controls various options as to how media is handled by Redactor. Check out the Media Source tutorial too.
Resource Typeahead
Options for the Resource Typehead which is available when you insert a link into the content.
Toolbar
All sorts of options for the Toolbar.
Redactor for MODX takes advantage of MODX Revolution's ability to override System Settings with User Settings. This means that you can do things like control what buttons in the toolbar are available for different editors of your site. Maybe you only want some of them have the Source Button. Maybe different colors should be available. Maybe files should be uploaded to user specific folders. Who knows! It's up to you.