First Big Brother v2 development build now available
Despite not quite reaching our crowdfunding goals for Big Brother v2, we've been working on it these last few weeks and are excited to now release the first development build.

We went ahead building the full primary scope, plus the first stretch goal for individual dashboard widgets in MODX3. That means no period selector or per-resource statistics unfortunately, but maybe we'll still add those some day.

Special thanks to the amazing people who have shown their support by donating to the crowdfunding campaign, and the people on the MODX Community slack who provided design feedback.
This first development build is probably around 85% towards being stable, with some open issues that we'll tackle in the coming weeks. Here's what the main widget looks like, screenshot from MODX 2.8.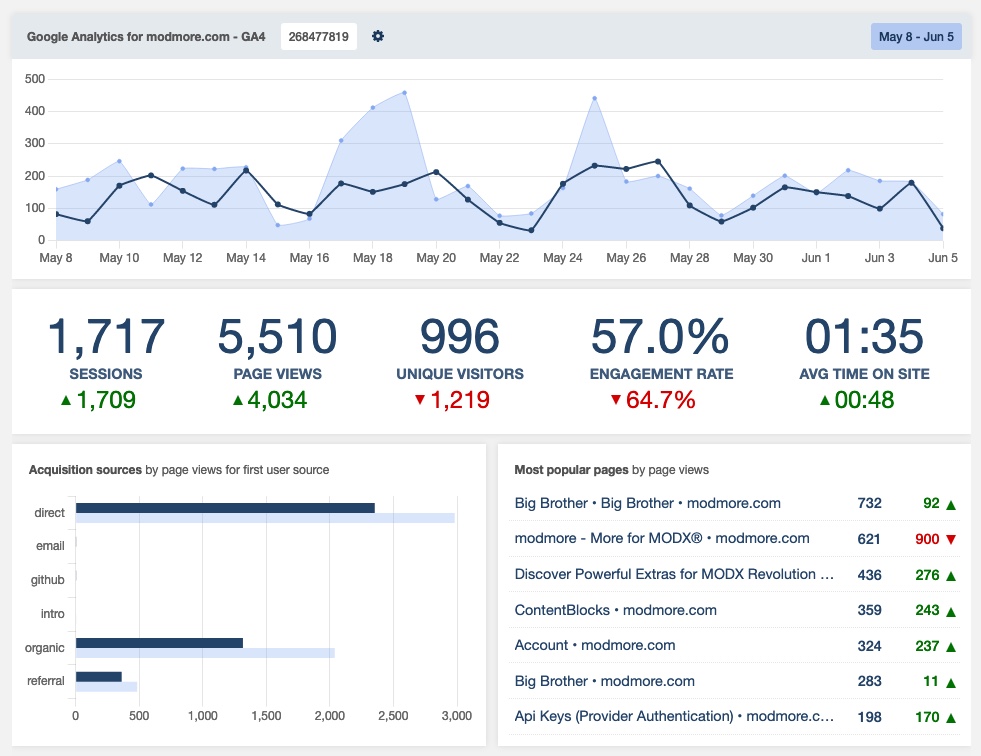 Big Brother 2.0.0-dev has the main dashboard widget pictured above with an overview of all important statistics from your Google Analytics property.

To take advantage of the dashboard flexibility in MODX3, the different charts and metrics are also broken down into 4 individual widgets to let you rearrange and resize them at will, plus a bonus "Top Countries" widget to show where your active users come from. These individual widgets can also be used in MODX 2.8, but that does not allow dynamic resizing.

The authorization is similar to v1, but a bit more streamlined in a fresh interface.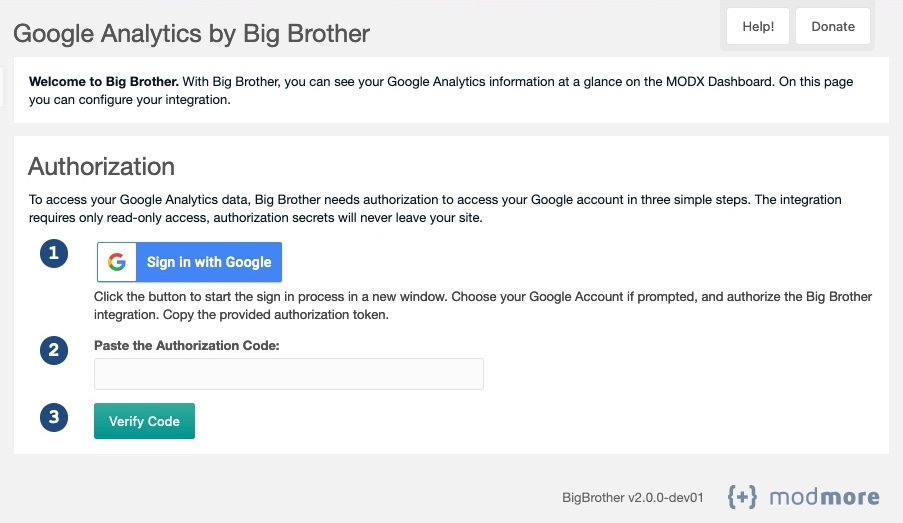 After the initial authorization with Google, the interface updates to show you a two-column view of your accounts and properties for an easy selection of which property to show data for.
All of this is now available to download and install from our package provider. We'd love for you to try it out, and please open issues with feature requests or any bugs you may come across.

And if you like what we've done, please consider donating to support our open source efforts.