SiteDash new feature & opportunity to win a free year
We recently announced SiteDash, a service that allows you to keep track of your MODX sites. Today we're a launching a new feature that will help you figure out what's wrong with a site: an error log analyzer.
By navigating to a site in the dashboard and clicking on the new Error Log link, you can now get an overview of the errors on your site. We analyze the error log (up to 100mb) by detecting duplicates and then show the 100 most common errors.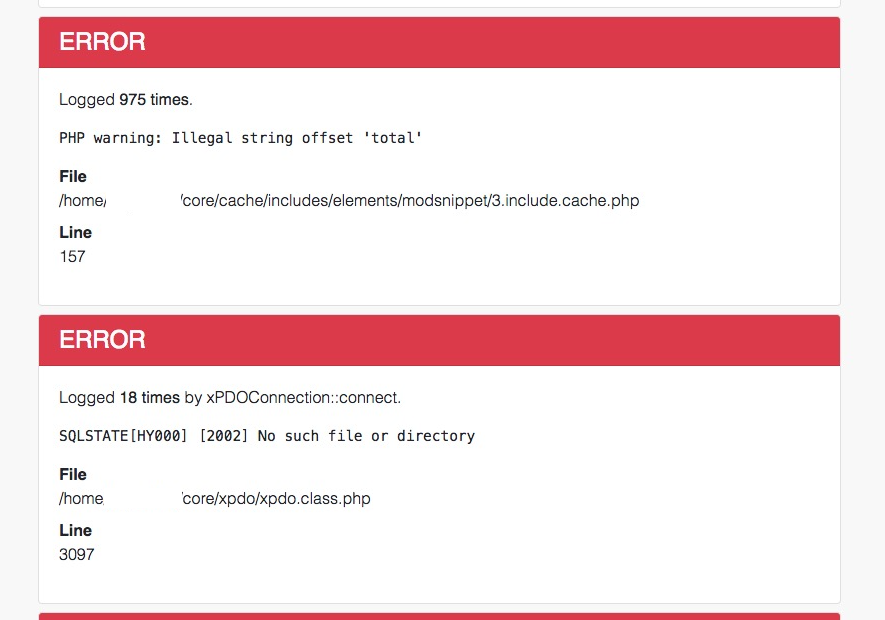 In the future, we plan to build a database of common error log messages and include information on how to fix specific issues. SiteDash will also become an educational tool, giving you more insight into how MODX works and how to fix common problems.
Plus: SiteDash Client v0.4
We're also releasing version 0.4 of the SiteDash Client package today. This update includes the necessary changes to allow SiteDash to securely download your error log, and will now report back the client version so we can detect what features are available as we improve and add new features to SiteDash.
Try SiteDash today and get a year free

SiteDash is currently free to sign up and use while it's in public beta. We plan to activate subscriptions in Q1 of next year.
But as this is Black Friday week and we're feeling generous, if you sign up and use the new error log analysis before Monday at 9am GMT, you'll be entered into a raffle to win a years subscription of the Basic Plan (100 sites). The years subscription will begin once subscriptions go live.
Update Monday November 27th: The winner of the free year is.... Patrick Beeli! Congratulations, enjoy a free year of SiteDash!