Watch the videos The full live stream, edited videos for each session, and the aftermovie are now available to replay.
Think you've built the best MODX website? This MODXpo we're very excited to put your sites to the test and present for the first time the Best MODX Website Award!
The Top 10 for the Best MODX Website Award 2022
With all points counted and numbers wrangled, the final top 10 as announced during the MODXpo is as follows.

For the remainder of the ranking, download the results (pdf) here.
Check the full recap of the Best MODX Website Award on MODX.today.
Introducing the Best MODX Website Award
Yes: it is an actual physical award to take home or to your office! It will be custom made from 20mm thick crystal glass, with a full-color MODX logo print.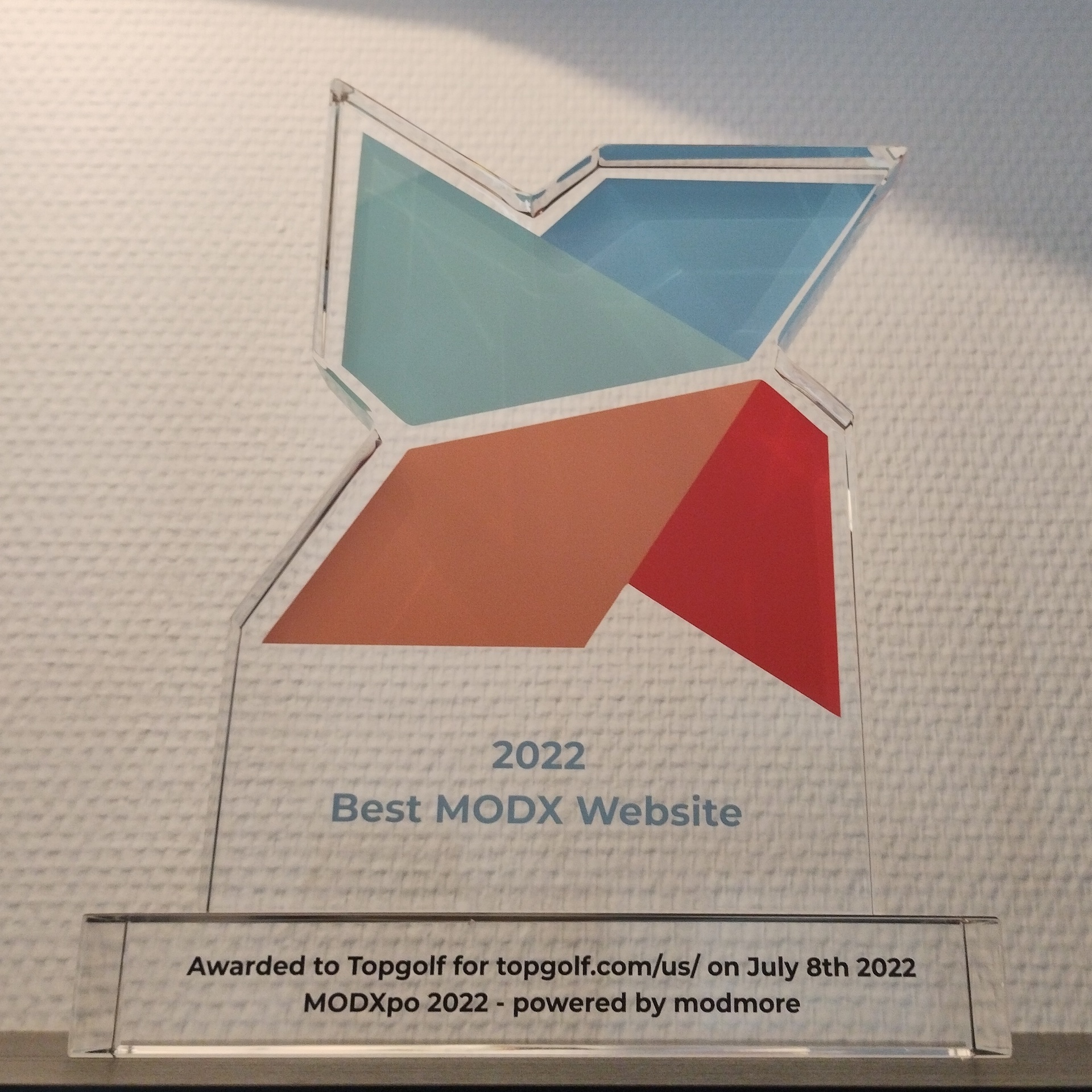 The award measures roughly 220mm tall and 145mm wide. The inscription on the base include the agency name and the site they won the award with (in this case, Topgolf built the front-end of their website in-house), and it comes in a luxurious gift box.

It's an amazing eye-catcher on an office shelf!
How could you win?
Buy your tickets; you must take part in the MODXpo either in-person or online to have a chance at winning

Submit up to 3 websites (1 website if you're joining us online) before June 1st at 23:59 CEST

We'll judge each site based on the following criteria: performance (35%), design (35%), and accessibility (30%). Each site gets a final score from 0-100.

During the award show we'll highlight the top 10 and/or websites that stood out, announce the top 3 and discuss them with their creators, and finally announce the winner!

Each agency or freelancer, regardless of number of tickets bought, may submit at most 3 websites. Sponsors contributing over €500 may submit a fourth website. All sites must have been completed, or significantly upgraded, in the past 3 years.

Judging
The judging was done by representatives from MODX and modmore, specifically Mat Jones (MODX), Isaac Niebeling (modmore), Murray Wood (modmore), and Marc Jenkins (modmore). It's not the most diverse group of judges admittedly, which would be great to improve in a future iteration. Just remember we're putting an entire conference together in only 2,5 months! ;)

Each site is judged by representatives from both companies, both giving up to 50 points for a total maximum of 100. If multiple judges from the same company judge a site, the average of their scores will be used.

Example: Ryan gives a site 41 points, Mat gives it 37, and Isaac gives it 43. The MODX average (from Ryan and Mat's scores) is 39 points. Add Isaac's 43 to that, and the site is awarded 82 out of 100 points.
Judging which site is "the best" will always be at least somewhat subjective. Once we've made the verdict, it's final and not up for debate.

MODXpo 2022 was made possible with help from our partners
Get our newsletter
Get updates on the MODXpo, and other news from modmore. 1-2 emails per month.